The final phase of the Global Polio Eradication Initiative continues to face a funding shortfall – as of April 2002 – of US $275 million, including US $80 million in 2002.






You can join the donors to polio eradication that have brought the campaign this far:

Help eliminate the funding gap




OR

Donate through the national offices of polio eradication partners of your choice. > click here for a full list partners




The success of the international campaign to eradicate polio comes from millions of supporters around the world who have contributed time and resources of all kinds. If you are not already a partner, become one now by helping to spread the word about this campaign.

Inform friends and colleagues about polio and how close the world is to defeating this disease.
Link to this site.
Ask media outlets in your communities to report on local efforts to support global polio eradication.
Become a public spokesperson for the campaign, as are Brazilian photographer Sebastião Salgado and US actor Mia Farrow.
Contact your government to discover how it is helping to eradicate polio. Does it conduct and support routine child immunizations? Does it organize mass vaccination campaigns? Does it donate to the global campaign?

Join other polio eradication partners, especially in your community, in information and fund-raising campaigns. For example, Rotary International has more than 1.2 million members in communities worldwide who play leading roles in volunteer and fund-raising initiatives for polio eradication. UNICEF and WHO offices around the world work with diverse local partners, including Ministries of Health to implement eradication programmes, and national and local school networks to promote this and other public health campaigns.


To contact Global Polio Eradication Initiative partners: Click Here.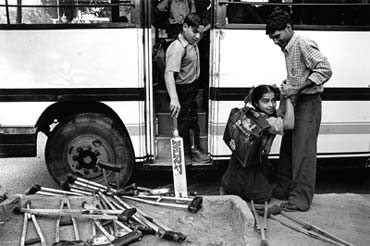 © Sebastião Salgado

India
Children disabled by polio or other diseases return from a sports activity to the Amar Jyoti Rehabilitation and Research Centre in New Delhi. The centre was established in 1981. Today it offers educational and therapeutic programmes for 540 children.