The campaign to eradicate polio is far too massive to be handled by any one organziation. It requires a major partnership with a wide array of talents, such as scientific knowledge, logistical expertise and effective global communication. Four organizations are leading this effort.

Rotary International has provided a substantial portion of international funds, as well as a global network of volunteers to help with immunization campaigns, training and advocacy efforts. The United States Centers of Disease Control and Prevention supplies unrivalled scientific expertise and is the primary channel for US government funding for the Initiative. The World Health Organization and the United Nation's Children's Fund co-ordinate the overall logistical and technical operation.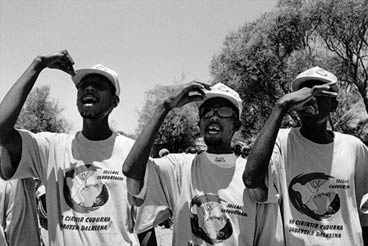 © Sebastião Salgado

Somalia
Singers and musicians like these help motivate health workers and convince parents to have their children immunized. A critical part of the global effort, this 'social mobilization' draws on the entire society to promote polio eradication.


The World Health Organization (WHO) provides technical direction and strategic planning for the overall management of the Initiative. It plays a key role in monitoring and evaluation of all aspects of the plan as well as in co-ordinating operational/basic science research, support to ministries of health of individual countries and the training/deployment of human resources (more than 2,000 people). WHO also has a lead role in: establishing certification standard AFP (acute flaccid paralysis) surveillance, resource mobilization, donor co-ordination and advocacy.

Rotary International is the world's first and largest humanitarian service organization. It made polio eradication its primary international focus in 1985, a key factor leading to the creation of the Global Polio Eradication Initiative. Rotary members in 163 countries have contributed nearly US$500 million for the campaign through their PolioPlus programmes and helped to secure government commitment for polio eradication world-wide. More than one million Rotarians have volunteered their time and personal resources to eradication efforts around the world.

The Centers for Disease Control and Prevention (CDC) is the lead United States government agency for health and safety. In addition to channelling American funding for mass immunization campaigns and surveillance activities, the CDC provides a wide range of technical expertise and laboratory support. A unique CDC contribution is its state-of-the-art virological surveillance expertise, or genetic fingerprinting. This identifies the strain of poliovirus in an outbreak and pinpoints its exact geographical origin, crucial in determining immunization strategies.

The United Nations Children's Fund (UNICEF) directs the Initiative's procurement and distribution of vaccines and cold chain equipment for routine and supplementary immunizations. With offices in more than 160 countries, it supports general national government immunization programmes, as well as improved management, training, social mobilization and disease surveillance for the campaigns. UNICEF plays a key role in helping to negotiate cease-fires to allow immunizations in conflict zones. It is also an active partner in global planning, resource mobilization and advocacy.


For more information on these organizations > resources



The polio eradication coalition also includes:

Governments of countries affected by polio. They undertake all eradication activities and commit substantial resources.
Donor governments that provide funding, including: Australia, Austria, Belgium, Canada, Denmark, Finland, Germany, Ireland, Italy, Japan, Luxembourg, the Netherlands, United Kingdom and the United States of America
Multi-lateral institutions including other UN agencies, the World Bank and the European Union
Private agencies such as the United Nations Foundation and the Bill & Melinda Gates Foundation
Humanitarian organizations such as the International Red Cross and Red Crescent movements, Medecins sans frontieres, Save the Children, World Vision and CARE
Corporate partners, including Aventis Pasteur
Civil society advocates from the arts, sciences, sports and entertainment worlds, including UNICEF Special Representatives Mia Farrow and Sebastião Salgado;
More than 10 million volunteers in developing countries who have participated in mass immunization campaigns.
The Micronutrient Initiative of Canada (Government of Canada), lead partner in the supplementary Vitamin A campaign.





Join the campaign > how to help
For selected partner contacts > resources