In India, a child drags herself across an orphanage floor, her knees raw with open sores. In the Democratic Republic of Congo, an elderly man earns a pittance hauling goods on his wheelchair – the only work he has ever had. In Nigeria, young men play soccer with their hands, propelling themselves on rough skateboards. Polio robbed them of their ability to walk forever.

The crippling virus has disabled nearly 20 million people living today. But the world is poised to ensure that not one more person ever suffers such a fate. Since its creation in 1988, the Global Polio Eradication Initiative has helped cut the global toll of polio paralysis from an estimated 350,000 to fewer than 500 in 2001. Thanks to the hard work of millions of volunteers, the commitment of governments everywhere and the dedication of international partners, nearly four million people have been spared crippling lifelong disability.

Very soon we will live in a polio-free world. The Initiative demonstrates how much can be achieved when the world pulls together to help all its citizens. This site, featuring the work of renowned Brazilian photojournalist Sebastião Salgado, tells the epic story of how this disease is being eradicated.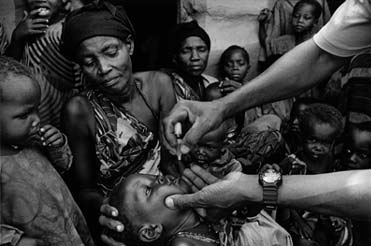 © Sebastião Salgado

Somalia

A child is immunized against polio in the village of Sabbatum.