By 2002, only 10 countries still suffered from endemic polio. If the virus can be conquered in these priority areas – all in Africa and south Asia – the eradication effort will have succeeded. The countries fall into two general transmission categories: high-intensity and low-intensity.

The five with high-intensity transmission have long suffered a high rate of polio: India, Pakistan, Nigeria, Afghanistan and Niger. The first three have large, high-density populations. All share high birth rates, low routine immunization coverage in at least some regions and poor sanitation, factors that make eliminating the virus especially challenging.

The five low-intensity transmission countries are Somalia, Egypt, Ethiopia, Angola and Sudan. In addition to sharing many of the challenges cited above, most have suffered from prolonged armed conflict. Their devastated health systems and transportation networks make mass immunization campaigns even more difficult.

Angola demonstrates the challenges of war and poverty. Devastated by three decades of conflict, it is – based on standard global indicators – the highest risk country in the world for a child. In early 2000, it suffered the largest polio outbreak ever recorded in Africa, which disabled more than 1,100 people and killed 89. Mass campaigns against polio reach about 85 per cent of Angolan children. But the remaining 15 per cent, inaccessible to vaccinators, are still at risk from wild poliovirus. A major effort is planned for 2002-2003 to reach these children.



Vaccinators call them the 'hot zones' - numerous districts in India's underdeveloped north-east that suffer particularly high rates of polio. Centred in the states of Uttar Pradesh and Bihar, these zones form the world's most intense area of poliovirus transmission. Here, immunizers must face two daunting realities: extreme poverty and huge numbers of children.

Together, Uttar Pradesh and Bihar have almost 249 million people. If they formed a sovereign nation, it would be the world's fourth most populous. Each year, more than 8 million infants are born here, among the 38 million children under age five in these states whom vaccinators must reach.

Many of these children grow up in veritable laboratories for breeding infectious disease: extreme crowding, low sanitation standards, little clean water and warm climates. Routine immunization is almost non-existent and mass vaccination campaigns must rely on a decrepit healthcare infrastructure. Crumbling hospitals go unstaffed. Sporadic electricity barely runs the few freezers for vaccine. Illiteracy rates are high.

In 2001, India had 268 new polio cases, more than double the number in any other endemic country. Still, this is a dramatic drop from more than 2,000 cases in 1999, progress stemming from a renewed push by the government and Initiative partners. India has already launched the largest single immunization campaign ever, with 2.5 million health workers targeting more than 150 million children. In 2002-2003, mass campaigns and relentless mop-up immunizations are targeting polio hot zones throughout the country in an all-out attempt to defeat this disease

See also > eyewitness to the campaigns > India



© Sebastião Salgado

India
Children are immunized in the city of Ghaziabad in Uttar Pradesh. The state is one of the last areas in the world where wild poliovirus still circulates.

In July 2000, a tropical afternoon haze hangs over Brazzaville, capital of the Republic of Congo, as the country emerges from a three-year civil war. At a small clinic, 35-year-old Raessa Kaboulau sits impassively as her 15-month-old twins, Mbou and Pila, cling to her thighs. "At first we didn't know what it was," Ms. Kaboulau says calmly. "The babies both just had a fever." It was polio. The infants contracted the virus three months earlier just as they were preparing to take their first steps. The war had cut them off from routine vaccinations and wild poliovirus spread through the community, crippling 43 children.

Conflict has long been a handmaiden of polio transmission. Chronic fighting leaves roads unusable, electricity non-existent, public health systems destroyed and infectious disease rampant. Although Africa has suffered most grievously from this, conflict and polio have partnered to disable children around the world.

In heavily mined Afghanistan, a 1996 study in the province of Kandahar showed that the most frequent cause of disability in children was not landmines, but polio. In Peru in 1991, the last polio victim in the Americas, Luis Fermin Tenorio, contracted the virus after fighting destroyed his local clinic and he could not complete his polio vaccinations. Armed conflict has interrupted routine immunizations in Chechnya, where 150 children contracted polio in 1995. Iraq had 10 cases in 1989, but after the Gulf War in 1992, polio crippled 120 children.

For other stories on the impact of war on polio eradication efforts > eyewitness to the campaigns



A photograph from Sierra Leone's first national polio immunization campaign in 1999 shows five men wearing 'Kick Polio out of Africa' T-shirts over military fatigues. Unexceptional, unless you know who they are: leaders of the country's five main warring factions. The Initiative brought them together in the same room for the first time. They put down their guns, if only briefly, for the health of Sierra Leone's children.

In 1985, El Salvador honoured the first vaccination-inspired cease-fire, called 'Days of Tranquillity.' More children were dying from preventable diseases than all the people killed in the country's civil war. UNICEF asked Catholic Church officials to intervene. After torturous negotiations, the Government and rebels agreed to stop fighting for three days to let health workers vaccinate children against several diseases. The following year, similar negotiations in Uganda created a safe passage – called a 'Corridor of Peace' – for vaccines, personnel and equipment to reach isolated populations.

Since then, the Initiative has negotiated numerous formal and informal cease-fires. Rival forces in Afghanistan and the Democratic Republic of Congo have recognized several Days of Tranquillity. Unofficial truces helped aid polio vaccination campaigns in Cambodia, India, Iraq, Myanmar, Sri Lanka, Turkey and many Latin American countries.

These moves into conflict zones come with considerable risk. Numerous vaccinators have been attacked, and several killed. Still, they continue work. Such efforts have become models for humanitarian intervention during warfare and are potential building blocks for longer-term peace.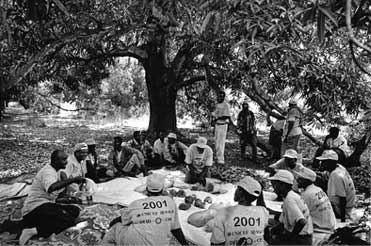 © Sebastião Salgado

Somalia
Health workers and their armed guards from two rival clans share a picnic near the village of Aboorrow during the March 2001 National Immunization Days. One clan's team has just passed polio vaccines to the other, so that the latter can immunize children in their communities. Vaccination planners negotiate with all warring factions to reach children in every part of the country.